The vacuum evaporation is used to divide an aqueous solution loaded with dissolved salts in a more concentrated solution and a purified solution. This process is particularly suitable for recycling waste water of low concentration.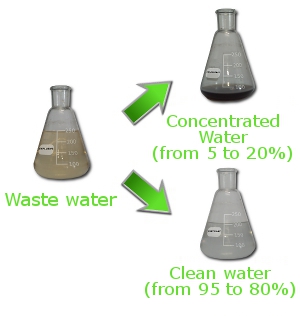 Principle of operation
The water to be treated is fed into an evaporator where the water vapor released is sucked by a depressor. The compressed vapor is then cooled and condensed in the evaporator. This evaporator is a heat exchanger with the raw water at the tube side and,the condensate at the shell side.

The concentrate and distillate from the evaporator are controlled by two independent level control loops.

The depressor maintains the vacuum in the evaporator side and the pressure at the tube side.

An economizer is used to cool the distillate output of the evaporator and to heat the raw water before entering the evaporator.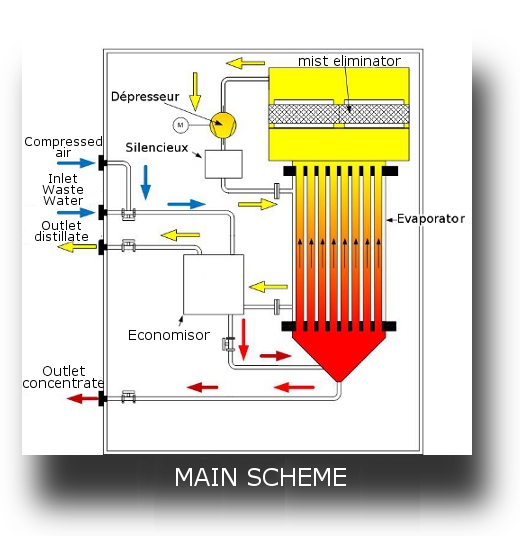 Installation and implementation
The CMV (for mechanical compression of vapor) is supplied with their frame and their control system. We may adjust the main control parameters of the process are available to be adjusted for a good operation of the specific waste, through the control panel.

The system is compact and supplied with its noise encloser.

When necessary, a pre-treatment may be supplied, like pH control, solid filtration, oil separation, ...

A post treatment may also be supplied depending on the use of condensate with activated carbon, reverse osmosis, ...

Finally due to operating constraints, it may be necessary to install buffer tanks for storage of waste water concentrate and / or distillate.

In most cases, all equipment in contact with water is made of stainless steel 1.4404 for corrosion resistance.

Sometimes, if the effluent is particularly aggressive, we can use higher grade materials.