Need to recycle your waste water ?
The vacuum evaporation allows to extract a purified water (distillate) from a rich water in mineral salts and permits to concentrate the water in salt (concentrate). Kempro Environnement provides a Mecanical Vapour Concentration unit. This process is particularly suitable for recycling of rinse waste water.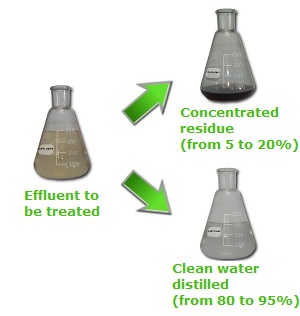 - Operating principle
The water to be treated is sent in an evaporator in which the steam is extracted by a depressor. The steam is then cooled and condensed in the evaporator which operates like a heat exchanger with the raw water to evaporate on the tube side and the distillate to condensed on the shell side.
The concentrate and the distillate are extracted from the evaporator by two independent level controls.
The depressor keeps the vacuum on the tube side and the pression on the shell side.
An economizer will cool the distillate at the evaporator's exit and will heat the effluent to be treated upstream of the evaporator's inlet.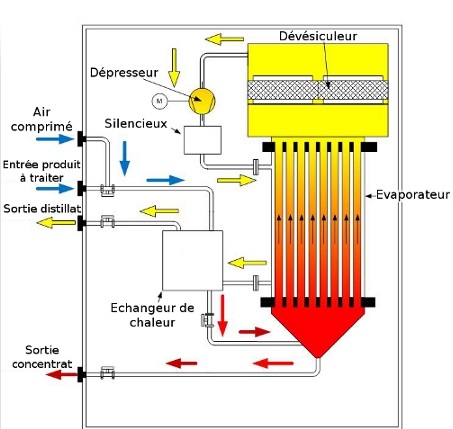 - Assembly and implementation
The MVC (Mechanical Vapour Compression) evaporators are supplied on chassis with their instrumentation and control system, ready to use. It is operated on a 24h/24 mode. A retention enclosure allows to collects the possible leaks. The system is compact and fully covered by soundproof hood.

Sometimes, a pre-treatment is necessary, as pH control, solid filtration or deoiling… A post-treatment unit may also be necessary according to the use of downstream distillate: Activated carbon, reverse osmosis…Lastly, due to operating constraints, we may need to install storage tanks for effluent to be treated: the concentrate and/or the distillate.

In most cases, all equipment in contact with water are made of stainless for corrosion resistance. Sometimes, if the effluent is particularly aggressive, more resistant materials are used.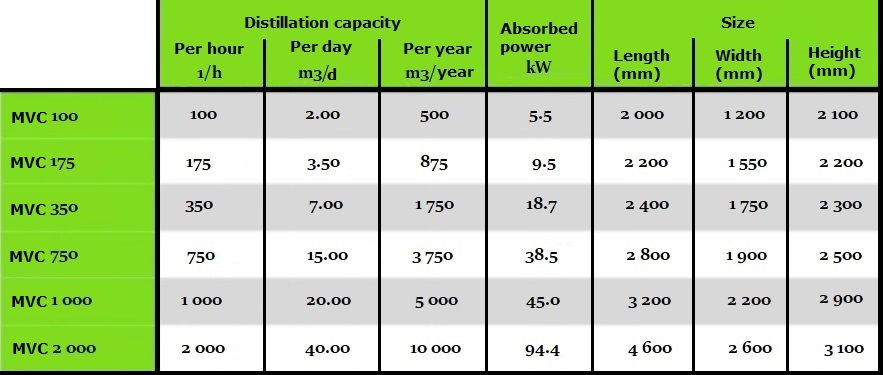 Note: Capacity estimated for 20 running hours per day and 250 running day per year.